Support
We all live busy and demanding lives. Between work, kid activities and daily chores there doesn't seem to be a minute to spare. But for those of you able to find a moment of time, the PTA would deeply appreciate your help with all of the amazing activities and fundraising efforts that are offered here at Pony Express.
Your time and donations help support a vibrant community and are crucial to help maintain the level of excellence and the number of programs that we are able to offer our students. From funding classroom and office supplies to helping support on-campus assemblies and field trips, your contributions make a difference in a Pony Express student's life each day.
From cool fundraising events to box tops and scrips cards, it has never been easier to support the Pony Express community! Below are our current fundraising events, as well as several other effortless ways you can start help raising funds for Pony. It doesn't take much to make a difference! As always, we appreciate your time and support in helping our community thrive.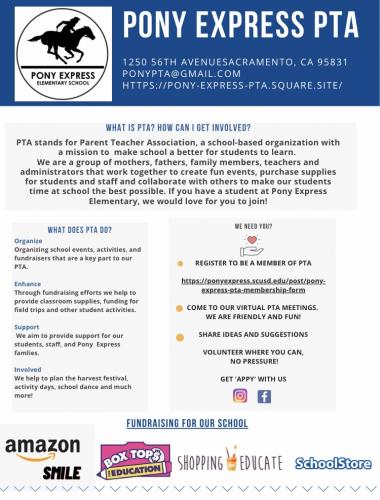 The Parent Teacher Association is YOU! Parents, guardians, and teachers of Pony Express Elementary School. The nominal yearly dues of $6 per adult provide you with membership in the California State PTA and adds to our local programs. Our main focus is providing enrichment programs for the students and parents, as well as to provide support for the teachers and the office at Pony.