Free Meals For Kids During Winter Break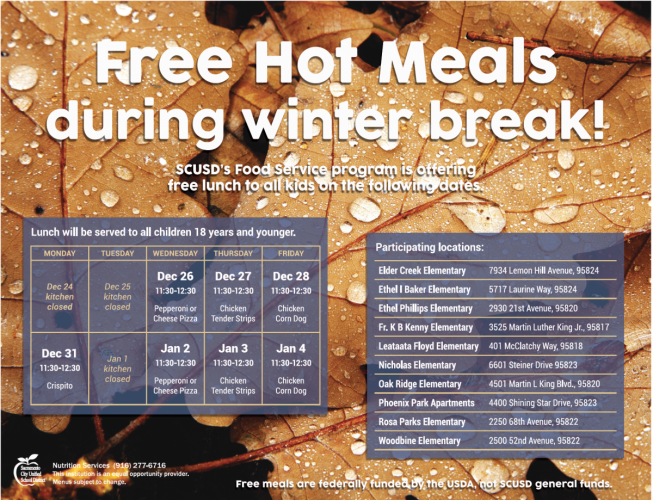 Kids in need of a hot meal over the Winter Break can pick up FREE federally funded meals between 11:30 a.m. and 12:30 p.m. at the following school sites between December 26th and January 4th:
Elder Creek Elementary
Ethel I. Baker Elementary
Ethel Phillips Elementary
Father Keith B. Kenny Elementary
Leataata Floyd Elementary
Nicholas Elementary
Oak Ridge Elementary
Phoenix Park Apartments
Rose Parks K-8
Woodbine Elementary
See the full schedule, including serving dates and locations by clicking the photo.
For meal menus, please visit SCUSD's Nutrition Services page. During the school year, SCUSD's Nutrition Services serves more than 45,000 meals a day in school cafeterias throughout the city. Many students eat for free: About two-thirds of SCUSD's 44,000 students qualify for a free- or reduced-price meal through the federal school lunch program. Free meals are federally funded by the USDA, not SCUSD general funds.
Access to meals throughout the winter break helps ensure kids are healthy and ready to learn when school resumes in January. Children do not need to be enrolled in any programs to receive free meals.