Don't forget Ice Cream Social/Silent Auction/FREE Movie Night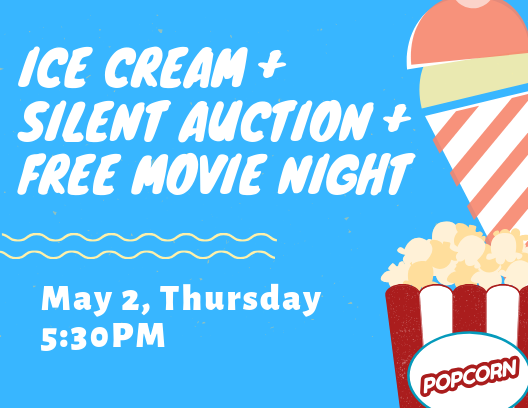 Tomorrow is a big day for Pony Express! Cafeteria doors open at 5:30pm.
Ice cream is selling for $2 for 2 scoops. Please bring small bills if you can.
We've chosen the movie "Ralph Breaks the Internet". Space is limited so no air mattresses please!
Silent auction winners to be announced after the movie.
We are including a Flyer with this post so that you have an idea of what's happening tomorrow night in greater detail and the list of items up for grabs at our Silent Auction. Here's a rundown of tomorrow's events:
5:30pm – doors open, ice cream available and start of silent auction
6:00pm – Ralph Breaks the Internet movie showing (FREE!)
7:30pm – end of silent auction
7:40ish – end of movie and announcement of winners for the silent auction
Don't forget to download the PDF files and see the exciting auction items. To name a few, these are some of the items up for auction:
9 Round Florin Road – Gift Baskets
Atlantis Casino – 1 Night Room
B Street Theatre Tickets
California Spa Dentistry – Gift Certificate
Esquire Imax – Tickets
Funderland – Tickets
Garden Party – Coffee & Tea – Children Gift Set
Miguel Paz Studio – Handmade Teapot/ Cups
River Cats – Tickets
Sacramento Kings – Swags
Starbucks – Gift Certificate
Ron's Frame Shop – Framed Arts
Ruth's Chris – Gift Certificate
Paesanos (Midtown) – Gift Certificate
and tons more!
Thank you to all our generous sponsors, families and friends who supported and donated to make this event a success.
Lastly, please help clean-up at the end of the night, let's all do our role in keeping our school clean and tidy.
See you tomorrow at 5:30pm!
This event is sponsored by your PTA.