Runnin' For Rhett for 4th-6th Graders
Next Zoom Meeting 10/14/20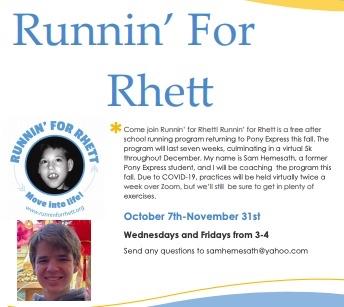 4th to 6th graders are invited to participate in Runnin' For Rhett!
Next Zoom Meeting October 14 , 2020
https://zoom.us/j/6266508970?pwd=UldWS2VHTXZJZWtVdHpwOW9CRnRhQT09
Meeting ID: 626 650 8970
Passcode: Rhett2020
The Basics: Runnin' for Rhett is a free after school running program that culminates in a 5K
race anytime in December. Learn more about Rhett and his inspiring story at runninforrhett.org.

Practices: Practices will be after school on Wednesdays and Fridays, from 3 – 4. Eligible
runners are in 4th through 6th grade, with some younger siblings by prior arrangement.
Practices will be held over Zoom, and runners are encouraged to run on their own as they please.

Participation in the program is contingent on your runner's ability to follow our Zoom courtesy rules. First practice is Wednesday, October 7th after school!

Gear: Please ensure that your runner has proper shoes and clothing for exercise. The shoes
don't have to be expensive, but should be decent condition athletic shoes, as we will be running up to 4 miles per practice.
Fill out the permission slip and email Coach Sam Hemesath at samhemesath@yahoo.com to sign-up or for any questions.