It's GIRL SCOUTS COOKIE Season !!!
Orders now available online!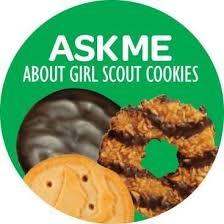 Dear Pony Express Families!
It is Girl Scout Cookie Season! Girl Scout Troop 1996 (based at Pony Express Elementary School) is selling cookies right now! In the past years, you would see us selling cookies afterschool at Pony Express but given the pandemic, we are unable to host any booths this year and are selling our cookies online and keeping it contactless for safety reasons. We are offering the following cookies:
Toast-Yay! (a NEW flavor that tastes like French Toast)
Thin Mints
Girl Scout S'mores (this is the LAST year that Girl Scouts will be offering this flavor)
Lemonades
Peanut Butter Patties (aka Tagalongs)
Shortbread (aka Trefoils)
Peanut Butter Sandwiches (aka Do-si-dos)
Caramel deLites (aka Samoas)
Attached is a flyer with more details about each cookie. You can order your cookies through this link:
https://app.abcsmartcookies.com/#/shopify-landing-troop/1eb502c7-f04e-eb11-9889-0003ff50549f.